Home
Davisound
"Delivering Audio/Video Installation Solutions"
Serving the Mid-Hudson Valley since 1990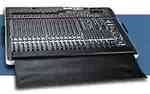 A/V solutions!
We offer affordable A/V rental systems, and complete A/V system designs and installations, for churches and schools in the Ulster County area of New York.
What is that funny sound?
You arrive at your church, or child's school concert, ready for an exciting and emotionaly uplifting time. But wait, what's that sound? A bee? No, sounds like an electric razor. Where is that coming from? You look around, but no one seems to be shaving... Oh well, we're starting. "Welcome everyone...." rrrriiinnnggg. "Thank you all for coming to today's... bzzzzz..." What is that... An airplane? Feedback? The PA system? Help!
What is the problem?
Most church and school buildings still have the original 'PA' system that was installed when it was built. This is great, if the building was put up last year!
The sound system is the most overlooked, yet most important 'system', in the building. "It's always been there and it works ok, so why worry about it?" Sadly, these systems are often put together and installed by well meaning, but unqualified people. Given limited budgets, equipment is purchased with what is 'left over' after the building is put up.
P.A. stands for Public Address System, like a bullhorn for getting the crowd's attention at a football game. Todays churches and schools need a 'Sound System' which is capable of reproducing and amplifying a wide range of sounds, not just speaking. The background noise and limited range of older PA Systems are clearly inadequate when used in today's both quiet and dynamic performances.
What is the solution?
Let's look at the roll of today's sound system.
Amplify the performer's voice only enough so that all in the room can hear clearly.
Allow the use of playback equipment.
Allow the use of recording equipment.
To be "transparent". The audience should hear the performer, not the system.
Each building and situation needs to be examined closely, to see exactly what each user needs their system to do. We would be happy to sit down with you for a free system review. That's right, free! Drop us a note or give us a call, and let us help you design a quieter, affordable A/V system.
(845) 332-7420

Note: We are not the good folks at DaviSound from SC., who build high end custom audio equipment.
To reach their site, please go to www.davisound.com