Home
Davisound
"
D

elivering

A

udio/

V

ideo

I

nstallation

S

olutions"

Serving the Mid-Hudson Valley since 1995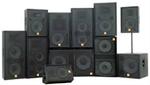 Affordable Rental Systems
Need to sit on the beach and play your guitar, be a DJ for your friend's wedding, or put on an outdoor concert for 500+ people? We've got you covered!
Audio solutions!
We offer Audio Rental Systems, as well as complete Audio system design and installation, for businesses, churches and schools in the Ulster County area of New York.
Repair sevices are also available for home and pro audio speakers.
What's available?
We carry three catagories of sound reinforcement:
1) Small, Portable, powered, single speakers for solo work and smaller venues.
2) Medium, Box-style mixer/amps with two speaker systems for weddings, parties, etc.
3) Large systems with Mixer boards, Audio Snakes, Power Amps, Main and Monitor Speakers, Crossovers, Effects Processors, for outdoor, or large indoor events.
Delivery and setup available, call for details.
What is right for you?
Take a look through our pre-packaged systems on our rental pages.
When you find what you like, call us and we will reserve it for you.

If you don't see what you need, call us, w

e will build a system for you!

If you need to make changes to one of our systems, no problem!

If you don't know what you need, call us! We will talk over your requirements.
Drop us a note or give us a call, and let us help you rent an affordable Audio system.
(845) 332-7420

Note: We are not the good folks at DaviSound from SC., who build high end custom audio equipment.
To reach their site, please go to www.davisound.com